Research just published in Nature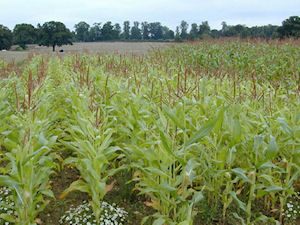 Research just published in Nature (1) by the scientific consortium behind the GM farm scale trials (2) concludes that the comparative benefits for biodiversity from GM herbicide tolerant (GMHT) maize are likely to be reduced but not eliminated by the forthcoming EU withdrawal of triazine weed killers.
The recent Farm Scale Evaluations of GMHT crops reported greater weed abundance under GMHT maize compared to conventional maize crops as a result of the different weed management practices in the two crops. This result led to recommendations from the ACRE (3) Committee that growing GMHT maize would not result in adverse effects. However, the consortium and ACRE both expressed concern that the forthcoming withdrawal of triazine weed killers will lead to changes in conventional weed control that might reduce or even reverse this comparative benefit of GMHT.
This study used data from the Farm Scale Evaluations to analyse the effect of different weed killer spraying regimes in conventional maize crops on key biodiversity indicators. A large reduction in weed numbers was found when atrazine was applied before the maize crop had emerged from the ground. Other patterns of conventional weed killer use were less effective, but still reduced weed numbers more than the weed control practised in the GMHT maize. The index measuring the relative benefit to biodiversity of GMHT management compared with conventional management was reduced by one-third. Senior author, Professor Joe N. Perry said: "The consistency of this reduction across a range of biodiversity indicators gives us confidence to forecast future effects".
Considerable information is available on likely replacements for triazine weed killers in conventional UK maize crops. The authors used this to predict weed numbers in conventional maize crops following the withdrawal of triazines in the EU. Professor Perry said: "We conclude that the comparative biodiversity benefits from GMHT maize cropping would be reduced, but not eliminated by the withdrawal of triazines in the UK".
Publication
Contacts
Notes to Editors
1) Nature reference: (DOI: 10.1038/nature02374).
2) The Consortium comprises; Rothamsted Research, Centre for Ecology and Hydrology, Scottish Crop Research Institute
3) Advisory Committee on Releases to the Environment