Insecticide 'crystals' could revolutionise pest management following a deal between Rothamsted, NSWDPI and Endura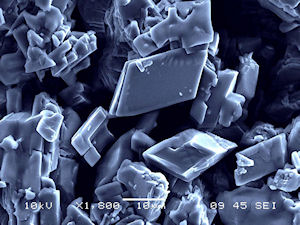 Time-delayed insecticide 'crystals' could revolutionise pest management in agriculture following a deal between researchers from Rothamsted Research, an institute of the Biotechnology and Biological Sciences Research Council (BBSRC), New South Wales Department of Primary Industries (NSWDPI), Australia and the Italian chemical company Endura.
The agreement will allow Endura to commercialise technology that involves the encapsulation of insecticide into tiny crystals and has proved nearly 100 per cent effective in some insecticide resistance hot-spots around the world. The potential roll out of this research has widespread implications as removing resistance developed by insect pests would revitalise techniques for controlling them. Once released onto the market, the technology will allow farmers to destroy pests that are currently devastating crops such as potatoes, sugar beet and cotton.
The formal issuing of a licence to Endura is a result of 10 years of research by Dr Graham Moores from Rothamsted Research and Dr Robin Gunning from NSWDPI who together developed the new encapsulation technology.
Dr Moores, explained: "The beauty of the concept is that it should act on any insect pest. In terms of value, one could almost take the cost of insecticide-resistance as a whole to be the possible saving by this technology. Clearly this would be unrealistic, but the point is, it is difficult to assess a possible monetary or crop saving, as it is potentially so vast."
A major problem in pest control is the propensity for insects to mutate and become resistant to pesticides by developing enzymes which block insecticides and stop them from working. The encapsulation works by delaying the release of insecticides to give enzyme inhibitors within the formulation time to disable the enzymes which insects use to block traditional pesticides. The enzyme inhibitor is referred to as a 'synergist'.
While many potential synergists exist, most are too toxic for use in agriculture. So Dr Moores and Dr Gunning's first task was to identify a naturally occurring synergist which they did – called piperonyl butoxide (PBO). However, they found that when the synergist was used in a simple mixture with an insecticide it was not effective in restoring the ability of the insecticide to kill resistant pests.
Dr Moores explained: "We discovered the answer lay in the time taken for PBO to cross the cuticle into the insects and inhibit the enzyme - typically five hours. So the insecticide was already blocked by the insect's enzymes before PBO had a chance to act.
"One possibility would be for crops to be sprayed twice, first with PBO and five hours later with an insecticide. However, time and cost means that this is not practical, so we had to go back to the lab to come up with a novel, viable solution," he said.
That is just what they did, developing time-delayed insecticides using a microencapsulation which take five hours to dissolve and can be applied to crops at the same time as PBO.
Dr Robin Gunning said: "I think it is one of the biggest breakthroughs in pesticide application technology that has come along in a long time. This is a great example of pure laboratory science which has been turned into practical application for farmers worldwide."
Endura shares this opinion and has bought the rights to develop this encapsulation technology to bring it to the market for commercial use. 
Dr Cosimo Franco, Managing Director of Endura Fine Chemicals, said: "With this licence agreement Endura hopes to promote the wide-spread use of PBO in agriculture. It been shown that the use of PBO contributes to solving the problem of resistance in crops, but it also allows the use of smaller quantities of pesticides, thus reducing the environmental impact. Endura's next step if to promote the concept of microencapsulated PBO in agriculture throughout the world in collaboration with strategic Partners."
Richard Nugent, Head of Contracts and Intellectual Property at Rothamsted Research Ltd, said: "We continue to collaborate with Endura looking at new ways to decrease the amount of insecticide required to protect crops from both susceptible and resistant pests. Rothamsted Research has found that it is public-private partnerships built on mutually beneficial relationships which have led to the most productive collaborations and successful technology transfer. We are always seeking partners who want to deploy our novel solutions or who wish to work closely with us to develop such solutions."
Commenting on the Licence agreement, Dr Celia Caulcott, Director, Innovation and Skills for BBSRC, said: "This exciting commercial development highlights the importance of the excellent science being carried out by the BBSRC Institutes, and the scientific and ultimately commercial benefits of long-term, mission orientated research. Through collaboration, excellent fundamental science can be harnessed and transformed into applications to tackle major issues facing society – in this instance, insect pests which pose a major threat to global food security."
Contacts
Notes to Editors
The patent is licensed in five fields of application, of which one part has now been issued to Endura relating to agriculture and horticulture and public health economically damaging pests. About Endura Endura Fine Chemicals is an Italian based company which has been developing, manufacturing and selling active ingredients and synergists for household and public health insecticides for over 50 years. By far, it is the largest producer world over of the well-known synergist, Piperonyl Butoxide (PBO). The recent patented synthetic route for manufacturing this product results not only in a huge step towards environmental conservation, but also in a potentially unlimited availability that has created opportunities for more extensive applications in a number of fields and, in particular, a colossal potential in agriculture. In this direction, Endura has been actively collaborating with major research institutes for the purpose of developing innovative formulations (two-part treatments) with PBO to fight highly resistant crop pest, obtaining excellent results up to now. About NSWDPI NSW Department of Primary Industries acts in partnership with industry and other public sector organisations to foster profitable and sustainable development of primary industries in New South Wales. With a staff of 3500 based at over 130 locations across the state, the department delivers a wide range of services to primary industries and rural communities. There is an emphasis on front-line services. The department was formed in July 2004 with the amalgamation of Mineral Resources NSW, NSW Agriculture, NSW Fisheries and State Forests NSW