Rothamsted Research at Cereals 2003
Assessing your crops' sulphur needs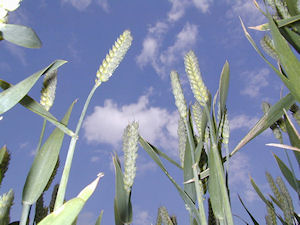 Contacts

Breeding oilseed rape varieties for pollinator-friendly traits
Amounts and sugar content of nectar vary between commercial varieties of oilseed rape (OSR) produced with different breeding systems, when tested in the glasshouse.

Black-grass requires a 'three-pronged' attack
Black-grass requires a three-pronged attack to promote and develop sustainable management solutions.

Mineral vital to human health will decrease due to climate change
New model developed to understand the variation in selenium concentrations in soil finds climate is key to its global distribution.

Rothamsted Research Celebrates £2,500 gift from the Patron's Fund
Charitable fund acknowledges the work of the charitable organisations for which Her Majesty, The Queen acts as a Patron.
Pages
Rothamsted Press Office
For further information, please contact:
Professor Angela Karp (comms@rothamsted.ac.uk), Tel: +44 (0) 1582 938 855
About Rothamsted Research
We are the longest running agricultural research station in the world, providing cutting-edge science and innovation for over 170 years. Our mission is to deliver the knowledge and new practices to increase crop productivity and quality and to develop environmentally sustainable solutions for food and energy production.
Our strength lies in the integrated, multidisciplinary approach to research in plant, insect and soil science.
Rothamsted Research is strategically funded by the Biotechnology and Biological Sciences Research Council (BBSRC). 
About BBSRC
BBSRC invests in world-class bioscience research and training on behalf of the UK public. Our aim is to further scientific knowledge, to promote economic growth, wealth and job creation and to improve quality of life in the UK and beyond.
Funded by Government, BBSRC invested £473M in world-class bioscience, people and research infrastructure in 2015-16. We support research and training in universities and strategically funded institutes. BBSRC research and the people we fund are helping society to meet major challenges, including food security, green energy and healthier, longer lives. Our investments underpin important UK economic sectors, such as farming, food, industrial biotechnology and pharmaceuticals.
More information about BBSRC, our science and our impact.
More information about BBSRC strategically funded institutes.