Rothamsted Research at Cereals 2003
Assessing your crops' sulphur needs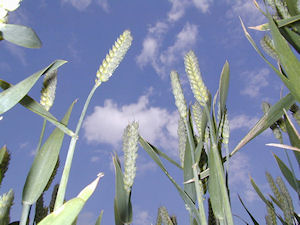 Contacts

Mass insect migrations in UK skies
For the first time, scientists have measured the movements of high-flying insects in the skies over southern England – and found that about 3.5 trillion migrate over the region every year.

New study shows wheat crop yield can be increased by up to 20 per cent using new chemical technology, providing a solution to global food insecurity
The application, based on controlling naturally-occurring sugars, also increases crop resilience to drought

The humble willow basket to be remembered at First World War event
Celebrate the importance of the humble willow basket during the First World War, with the Everyday Day Lives in War Centre and Rothamsted Research, on Saturday 12th November 2016.

Rothamsted Research submits application to Defra for permission to carry out field trial with GM wheat plants
The trial will test whether GM wheat plants are able to carry out photosynthesis more efficiently in the field and whether this trait could result in a higher yielding crop. A public consultation has begun.
Pages
Rothamsted Press Office
For further information, please contact:
Professor Angela Karp (comms@rothamsted.ac.uk), Tel: +44 (0) 1582 938 855
About Rothamsted Research
We are the longest running agricultural research station in the world, providing cutting-edge science and innovation for over 170 years. Our mission is to deliver the knowledge and new practices to increase crop productivity and quality and to develop environmentally sustainable solutions for food and energy production.
Our strength lies in the integrated, multidisciplinary approach to research in plant, insect and soil science.
Rothamsted Research is strategically funded by the Biotechnology and Biological Sciences Research Council (BBSRC). 
About BBSRC
BBSRC invests in world-class bioscience research and training on behalf of the UK public. Our aim is to further scientific knowledge, to promote economic growth, wealth and job creation and to improve quality of life in the UK and beyond.
Funded by Government, BBSRC invested £473M in world-class bioscience, people and research infrastructure in 2015-16. We support research and training in universities and strategically funded institutes. BBSRC research and the people we fund are helping society to meet major challenges, including food security, green energy and healthier, longer lives. Our investments underpin important UK economic sectors, such as farming, food, industrial biotechnology and pharmaceuticals.
More information about BBSRC, our science and our impact.
More information about BBSRC strategically funded institutes.