Rothamsted Research at Cereals 2003
Assessing your crops' sulphur needs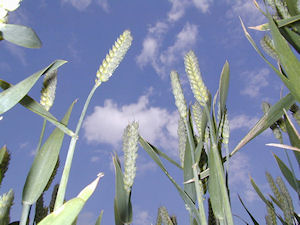 Contacts

Learning from the "healthy" to protect the "infected"
A novel mechanism has been identified which likely contributes to resistance against Septoria leaf blotch in plant species normally non-infected with the disease, providing the clues necessary to develop control methods in wheat.

State of Nature report: views from Rothamsted Research
Rothamsted Research scientists comment on the 2016 State of Nature report.

Pupils take on farming challenge
Teams of school pupils pitch their ideas to reduce slug damage to crops after meeting scientists at Rothamsted Research and visiting a local farm.

Seek and you shall find: bees remain excellent searchers even when sick
Scientists have found that honeybees exhibit a characteristic flight pattern to explore their surroundings, even when affected by disease.
Pages
Rothamsted Press Office
For further information, please contact:
Professor Angela Karp (comms@rothamsted.ac.uk), Tel: +44 (0) 1582 938 855
About Rothamsted Research
We are the longest running agricultural research station in the world, providing cutting-edge science and innovation for over 170 years. Our mission is to deliver the knowledge and new practices to increase crop productivity and quality and to develop environmentally sustainable solutions for food and energy production.
Our strength lies in the integrated, multidisciplinary approach to research in plant, insect and soil science.
Rothamsted Research is strategically funded by the Biotechnology and Biological Sciences Research Council (BBSRC). 
About BBSRC
BBSRC invests in world-class bioscience research and training on behalf of the UK public. Our aim is to further scientific knowledge, to promote economic growth, wealth and job creation and to improve quality of life in the UK and beyond.
Funded by Government, BBSRC invested £473M in world-class bioscience, people and research infrastructure in 2015-16. We support research and training in universities and strategically funded institutes. BBSRC research and the people we fund are helping society to meet major challenges, including food security, green energy and healthier, longer lives. Our investments underpin important UK economic sectors, such as farming, food, industrial biotechnology and pharmaceuticals.
More information about BBSRC, our science and our impact.
More information about BBSRC strategically funded institutes.