Rothamsted Research at Cereals 2003
Assessing your crops' sulphur needs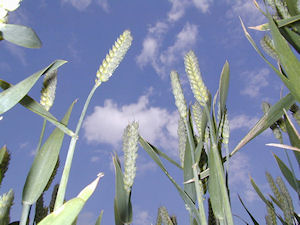 Contacts

Researcher gets on soapbox to explain blackgrass threat
Taking part in a recent 'Soapbox Science' event, Laura Crook from the Weed Ecology group at Rothamsted Research talks with the public about work on herbicide resistant blackgrass.

Major pathogen of barley decoded: new avenues for control
The fungus that causes Ramularia leaf spot in barley is the latest organism to have its genome sequenced and investigated.

The best defence: developing aphid-resistant wheat for smallholder farmers in southern Africa
A partnership between wheat scientists at Rothamsted Research and Seed Co Ltd, Africa's largest seed company, is attempting to breed wheat resistant to two aphid species.

Radar tracking reveals the 'life stories' of bumble bees
Scientists have tracked the flight paths of bumble bees throughout their entire lives to find out how they explore their environment and search for food.
Pages
Rothamsted Press Office
For further information, please contact:
Professor Angela Karp (comms@rothamsted.ac.uk), Tel: +44 (0) 1582 938 855
About Rothamsted Research
We are the longest running agricultural research station in the world, providing cutting-edge science and innovation for over 170 years. Our mission is to deliver the knowledge and new practices to increase crop productivity and quality and to develop environmentally sustainable solutions for food and energy production.
Our strength lies in the integrated, multidisciplinary approach to research in plant, insect and soil science.
Rothamsted Research is strategically funded by the Biotechnology and Biological Sciences Research Council (BBSRC). 
About BBSRC
BBSRC invests in world-class bioscience research and training on behalf of the UK public. Our aim is to further scientific knowledge, to promote economic growth, wealth and job creation and to improve quality of life in the UK and beyond.
Funded by Government, BBSRC invested £473M in world-class bioscience, people and research infrastructure in 2015-16. We support research and training in universities and strategically funded institutes. BBSRC research and the people we fund are helping society to meet major challenges, including food security, green energy and healthier, longer lives. Our investments underpin important UK economic sectors, such as farming, food, industrial biotechnology and pharmaceuticals.
More information about BBSRC, our science and our impact.
More information about BBSRC strategically funded institutes.