Rothamsted Research supports recommendations for science and Food Security from the Royal Society
Rothamsted fully supports the 'Reaping the benefits: science and the sustainable intensification of global agriculture' report.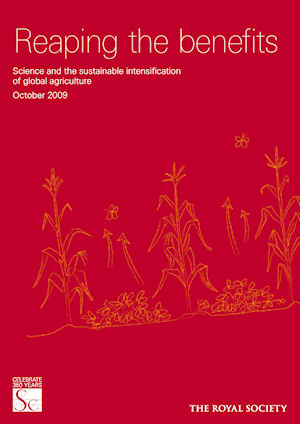 Contacts
Questioning the feasibility of the "4 per 1000" goal to sequester carbon in soil and slow climate change
International group of leading scientists suggest goal is unattainable in many situations, but still good for improving soil quality.
Wood pellets enhance ecosystems and raise renewable energy prospects, says international report
Study marks a controversial stand in a lively, ongoing debate about the sustainability of biomass derived from forests.
The BBSRC invest in Rothamsted Research's science strategy
BBSRC invests £50.9M in support of excellent agricultural science at Rothamsted Research to address grand challenges faced by farmers and society for the sustainability of food production and the environment.

How to deliver an improved UK agriscience sector outside of the EU
Rothamsted Research and the NFU convened a workshop identifying the key areas of focus in order to have a world leading agriscience sector in the UK after Brexit.
Pages
Rothamsted Press Office
For further information, please contact:
Professor Angela Karp (comms@rothamsted.ac.uk), Tel: +44 (0) 1582 938 855
About Rothamsted Research
We are the longest running agricultural research station in the world, providing cutting-edge science and innovation for over 170 years. Our mission is to deliver the knowledge and new practices to increase crop productivity and quality and to develop environmentally sustainable solutions for food and energy production.
Our strength lies in the integrated, multidisciplinary approach to research in plant, insect and soil science.
Rothamsted Research is strategically funded by the Biotechnology and Biological Sciences Research Council (BBSRC). 
About BBSRC
BBSRC invests in world-class bioscience research and training on behalf of the UK public. Our aim is to further scientific knowledge, to promote economic growth, wealth and job creation and to improve quality of life in the UK and beyond.
Funded by Government, BBSRC invested £473M in world-class bioscience, people and research infrastructure in 2015-16. We support research and training in universities and strategically funded institutes. BBSRC research and the people we fund are helping society to meet major challenges, including food security, green energy and healthier, longer lives. Our investments underpin important UK economic sectors, such as farming, food, industrial biotechnology and pharmaceuticals.
More information about BBSRC, our science and our impact.
More information about BBSRC strategically funded institutes.