alonsoc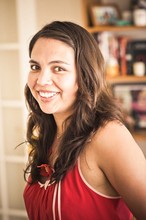 Role(s):
Postdoctoral Research Scientist - Modelling
Biointeractions and Crop Protection
Harpenden
Phone:
+44 (0) 1582 763 133 ext: +44 1582 938173
Location:
Rothamsted Research, West Common, Harpenden, Hertfordshire, AL5 2JQ
Chavez, V. A., Doncaster, C. P., Dearing, J. A., Wang, R., Huang, J. L., & Dyke, J. G. (2013). Detecting regime shifts in artificial ecosystems. In Advances in Artificial Life, ECAL (Vol. 12, pp. 625-632). Alonso Chavez, V. (2011). Mathematical studies of conservation and extinction in inhomogeneous environments (Doctoral dissertation, University of Southampton). Chavez, V. A., & Michaelian, K. (2011). Predicting ecosystem response to perturbation from thermodynamic criteria. Journal of Modern Physics, 2(06), 627.
Qualifications
2012:
PhD in Applied Mathematics (University of Southampton)
2007:
MSc in Physics (Physics Instutute (UNAM))
2004:
BSc in Physics (UNAM (National Autonomous University of Mexico))